Interceptor was sent to escort a British RC-135 that violated airspace near Murmansk, Western Russia
A Royal Air Force spy plane violated Russian airspace in the Barents Sea near Murmansk, the Russian Defense Ministry said on Monday. A MiG-31 interceptor was dispatched to escort the RC-135 surveillance jet from the vicinity of Cape Svyatoy Nos, near the major bases of the Russian Navy's Northern Fleet.
The MiG-31BM interceptor on duty with the border air patrol identified the aircraft and compelled it to stop its violation of Russian airspace, the military said in a statement. Moscow identified the location of the incident as Svyatoy Nos, a cape on the Kola Peninsula, east of Murmansk, Western Russia.
While the Russian Defense Ministry offered no further details about the incident as of Monday evening local time, FlightRadar showed a Royal Air Force RC-135 flying off the coast of Murmansk earlier. The RAF spy plane with the designation RRR7255 made several loops before heading for the entrance to the White Sea, violating Russian airspace in the process.
The plane is seen currently flying back to the RAF base in Waddington, Lincolnshire, the hub of the RAF Intelligence Surveillance Target Acquisition and Reconnaissance (ISTAR) command.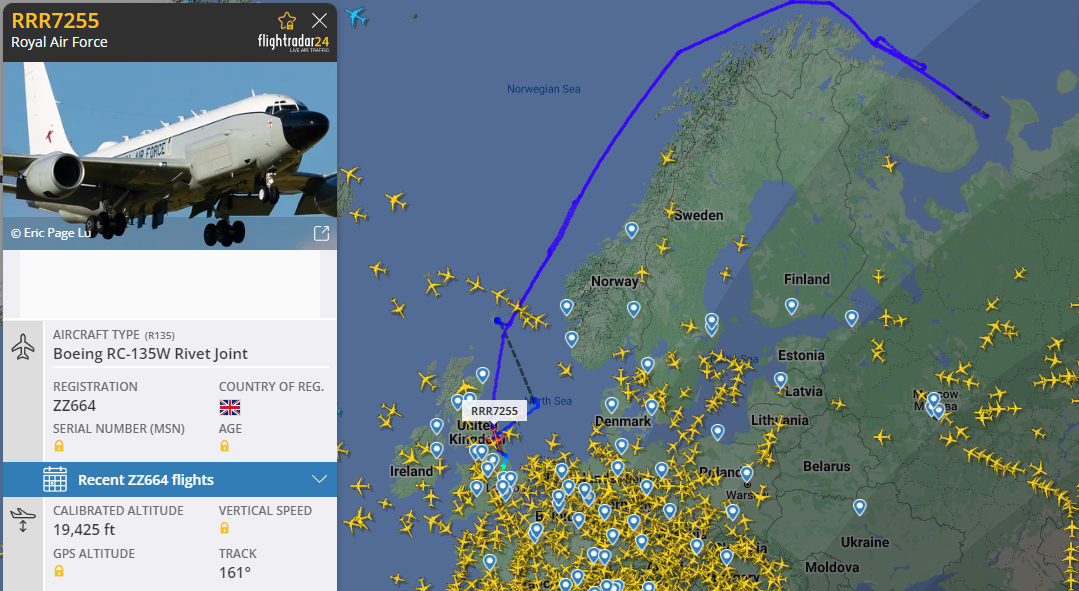 Flightradar.com/screenshot
(RT.com)